tajuk hari ke dua ni buat aku senyum.
sebab aku ni kaki movie.
ye. aku seorang yang sangat suka tengok movie.
whether i took the movies from my friends yang memang supplier terbaik daku. hahaha
atau aku pergi mana mana tempat yang ada wayang dan tengok kat situ teros.
so, my favorite movie yang aku suka.
dan aku dah tengok banyak kali tapi aku xbosan pon.
xlain dan x bukan.
movie 27 dresses.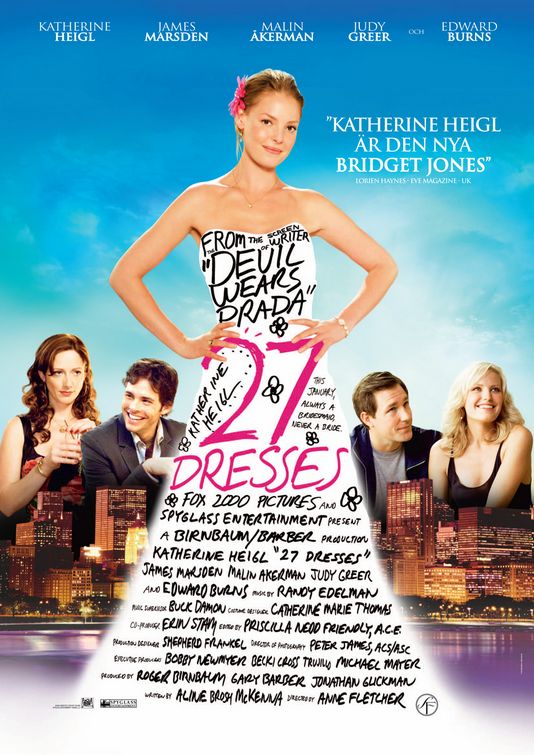 cerita ni dah lama da aku rasa.
pasal ape?
aku tulis secara ringkas saja ye.
pasal sorang perempuan yang jadi bridesmaid for 27 weds.
so, she has 27 dresses made for the bridesmaid.
the dresses are all macam sangat chick la. depends on the wedding itself.
rasa cam nak jer. he he.
and yes, its a romantic movie. he he he.
then of course ada part part konflik tuh kan.
which make the movie more interesting.
the best part is.
scene where james marsden tuh datang rumah katherine heighl.
then, katherine tukar tukar 27 dresses dia tuh.
and james snap the pictures of her. so sweet.
video 27 dresses tuh. :)
so, ape movie favorite korang pulak eh?
and yeah, this post is regarding

THIS POST

. check it out.